The Best, Healthiest Products
At our studio, we search for the products that make our clients look their best with healthy results for your skin. We use, recommend, and sell these products because we feel they're the very best. We're also trained in their use, so we can help you get the most from them. Feel free to ask any questions about them the next time you're in.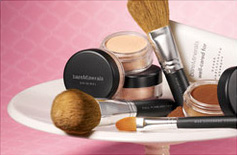 We can't get enough of them. Minerals are the fundamental ingredients that make every bareMinerals product effective and unique—and every specialized mineral blend delivers one-of-a-kind beauty benefits. The vital sun-protecting power of our Foundation? Minerals. The vibrant, glistening pigments in our Eyecolors? Minerals. The cell-renewing power of our Skincare? You guessed it: minerals. Minerals are at the heart of everything we do—and you'll love what they can do for you.
bareMinerals Makeup and bareMinerals Skincare were created to enhance your skin from the outside in.*For years, we've researched the power and potential of minerals to nourish, energize and renew—our 24-hour mineral care system is purposefully designed to continuously bring these benefits to you. Every mineral in our proprietary formulations is carefully selected to deliver proven results. bareMinerals Makeup utilizes naturally derived minerals to give you exceptional long-lasting coverage, breathable lightweight wear, rich pigmentation with creamy blendability, and broad-spectrum UVA/UVB sun protection. ActiveSoil Complex, the exclusive ingredient in our bareMinerals Skincare line, incorporates a comprehensive blend of potent macro and micro minerals to increase cell turnover, improve luminosity and help your skin defend against environmental stressors. Best of all, we created all of our mineral formulas to work together in harmony to improve your complexion instantly and over time, day and night.
As the mineral experts, we believe makeup and skincare should not only make you look good, but they should also be good for your skin. That's why we started the mineral makeup revolution with our award-winning Original SPF 15 Foundation, and it's the reason minerals remain an essential part of every innovation that we develop for your skin. Experience the transformative power of bareMinerals.